---
American Veda Tours
American Veda Tours are unlike any others. Rooted in the history told in Phil Goldberg's book American Veda, we take travelers on a personal journey in the footsteps of the gurus, swamis and yoga masters from India who transformed the West.
American Veda Tours pays homage to the leading figures of this spiritual revolution: Vivekananda, Yogananda, Sri Aurobindo, Maharishi Mahesh Yogi, Neem Karoli Baba, Muktananda, Srila Prabhupada, Mahatma Gandhi and others. While visiting ashrams and temples and the streets these world teachers walked upon (as well as scenic wonders and historic sites), we learn about the lives and teachings of the masters from both our guides and those who preserve their legacies today.
Our guides, Phil Goldberg and Swami Brahmananda, weave meditation, yoga and discourses throughout the journey to internalize the great yogic and spiritual teachings of India. Whatever path you are on, American Veda Tours is a powerful opportunity for learning and personal transformation.
The itinerary for our 2018 tour has just been determined. More details to be announced:
Experience Sacred India
---
September 15 to October 5, 2018
Delhi – Rishikesh – Haridwar – Kolkata – Pune – Ganeshpuri – Mumbai
Celebrate the 50th anniversary of the Beatles' journey to India at a special event in Rishikesh, where the floodgates were opened for yoga, meditation and Eastern spirituality to spread around the globe.
Experience the teachings of the great Indian masters and spiritual movements that transformed the West.
Walk in the footsteps of Paramahansa Yogananda, Swami Vivekananda, Sri Aurobindo, Sri Ramakrishna, Swami Muktananda, Maharishi Mahesh Yogi, Mahatma Gandhi, Mother Teresa and others.
Participate in a fully sustainable ecovillage, a community of Krishna devotees living in harmony with nature according to Vedic principles.
Receive a traditional Hindu blessing after a dip in the holy Ganges.
Practice meditation and yoga throughout our tour to integrate your experiences and deepen your spiritual understanding of this sacred country.
YES! SEND ME ADDITIONAL INFORMATION
Your Guides
Travel with Phil Goldberg, author of American Veda and a forthcoming biography of Yogananda,
and spiritual teacher Swami Brahmananda on this spectacular 21-day journey.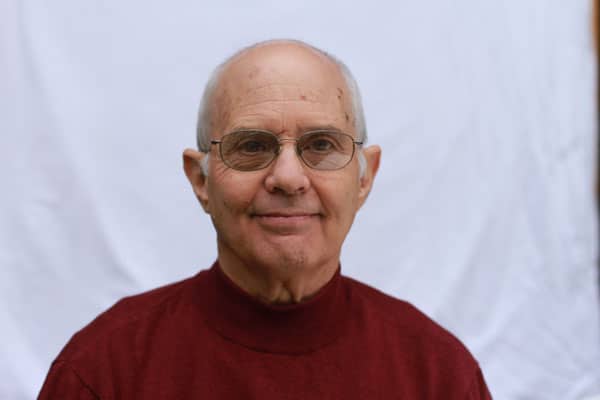 Philip Goldberg
Phil has studied and taught India's traditions for more than 40 years. He is author of American Veda: From Emerson and the Beatles to Yoga and Meditation, How Indian Spirituality Changed the West and a major biography of Paramahansa Yogananda to be published next April. Trained as a Transcendental Meditation teacher in 1970 by Maharishi Mahesh Yogi, Phil has a broad knowledge of India's sacred texts, Vedanta philosophy, yoga and various meditation practices. He brings passion, deep knowledge and humor as he shares India's teachings.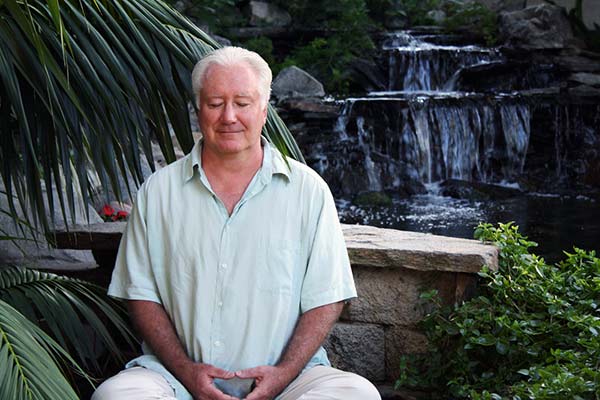 Swami Brahmananda (aka David Nowe)
Swami Brahmananda (Brahms) brings a rich background in Indian tradition and practices. He began his spiritual odyssey in the 70s when he met his guru, Swami Muktananda. For the next eight years Brahms traveled the world with the renowned swami, receiving training in Vedic traditions and becoming a foremost expert in Kashmir Shaivism. He is a spiritual teacher, yoga instructor and a retreat leader, currently leading retreats in Assisi, Italy and Rishikesh, India.
Itinerary & Cost
Length: 21 days
Cost: $4,985 – includes all hotels, domestic travel, all entry fees, 2 meals daily
Read on for itinerary details. And make sure we have your email address to receive periodic updates. Reservations are on a first come, first serve basis. For more information, or to make your reservation, contact Karen Mindt Howell, Tour Coordinator, at americanvedatours@gmail.com.
Delhi 
September 15 – September 17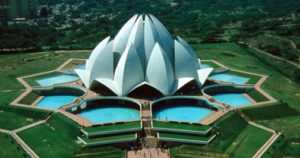 We gather in India's capital and second largest city. After getting settled in our comfortable heritage hotel, we'll gather to meet one another, get oriented, share a delectable Indian meal and bless our upcoming adventure with a Ganesha puja—a colorful traditional ceremony to the deity who removes obstacles, performed by a pandit of the Maharishi Mahesh Yogi lineage.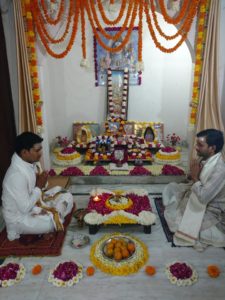 As Delhi is a crowded, noisy, polluted metropolis, we will not stay long. But we'll take in some stellar sites while giving everyone time to rest and do some pre-tour shopping. The possible visits, depending on logistics, include: Gandhi Smriti, a museum dedicated to the life and legacy of Mahatma Gandhi on the site where he lived his last years and was assassinated; a center in Paramahansa Yogananda's lineage; the Ramakrishna Mission, the revered organization created by Swami Vivekananda; the spectacular Akshardham Temple; the Bahai faith's Lotus Temple.
Those who wish to see more of Delhi and/or the nearby Taj Mahal are encouraged to arrive early; we will help with accommodations.
Rishikesh & Haridwar
September 17 – September 24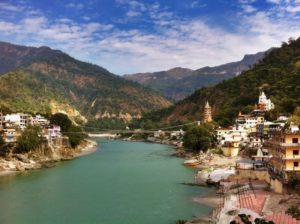 Located on the Ganges in the Himalayan foothills, these cities have always been sacred sites. When Yogananda ran away from home at age 11 to seek enlightenment, he got as far as Haridwar but was apprehended before getting to Rishikesh. Since the Beatles' famous sojourn in 1968, Rishikesh has become known as the Yoga Capital of the World. Yet, with all the ashrams, temples and holy sites, it retains it's quiet, scenic charm.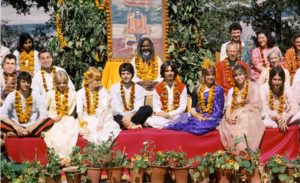 Since 2018 is the 50th anniversary of the Beatles' historic visit, we will pay homage at the ashram they made famous and share Phil's multimedia presentation about the Fab Four's spiritual journey. And, it's quite possible that a celebratory music festival will be held in Rishikesh while we're there. In fact, we scheduled the tour around this possibility. More details will be shared when available.
Leaving plenty of time for folks to wander on their own, take yoga classes and participate in local events, we will make use of Phil's contacts to meet with swamis, yoga masters and representatives of lineages with a presence in Rishikesh and Haridwar. They include Pujiya Swami Chidananda Saraswati and his American disciple Sadhvi Baghavati Saraswati of Parmarth Niketan ashram; the Divine Life Society (founded by Swami Sivananda, the guru of Swamis Satchidananda and Vishnudevananda); Swami Rama's Himalayan Institute; the ashrams of illustrious teachers from the past, like Ananda Moyi Ma, Sri Aurobindo, and Neem Karoli Baba. We'll arrange meetings with some contemporary teachers and participate in soul-enriching evening aartis on the shores of the Ganges.
We'll also drive higher into the hills for at least two special outings: to the cave of the legendary sage Vashistha, and to Devprayag, where seekers can take a soul-cleansing dip at the confluence of two sacred rivers and be blessed by a Hindu priest.
All that and daily yoga classes and satsangs with our own Swami Brahmananda and Phil.
Kolkata
September 24 – September 28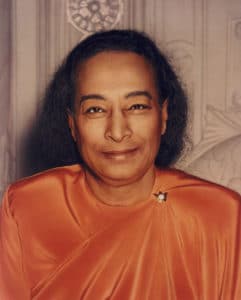 The cosmopolitan city of Calcutta (as it was then called) helped shape both Vivekananda and Yogananda as young men. Our time in "The City of Joy" will focus on those two giants. Phil will share what he learned while researching American Veda and his biography of Yogananda, and we'll meet swamis and others who represent those lineages today.
We'll visit the museum that now occupies the site of Vivekananda's family home, and the house where Yogananda matured into a spiritual leader. We'll hear stories of his youth and sit in the room where he spent long hours in meditation. In the same neighborhood, we'll go to other sites familiar to readers of Autobiography of a Yogi, such as the ashram of "The Levitating Saint."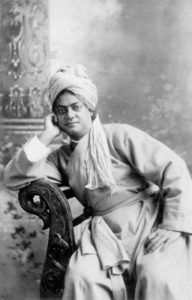 Also in the area is the museum dedicated to India's literary giant, Rabindranath Tagore, whose meetings with Yogananda are described in the autobiography. Time permitting, we will visit other historic sites as well, such as Mother Teresa's mission.
A few miles up the Ganges are places visitors always find memorable. We'll have a private tour and meet senior swamis at Belur Math, the headquarters of the Ramakrishna Mission created by Vivekananda. We'll go to Serampore, where Yogananda finished college and spent countless hours with his guru, Sri Yukteswar. In Dakshineswar, we'll visit the Kali temple made famous by Vivekananda's legendary guru, Sri Ramakrishna, and where Yogananda frequently meditated. And we'll spend time at the Yogoda Satsanga Society ashram in Dakshineswar, which Yogananda oversaw from America but never got to see.
Pune
September 28 – September 30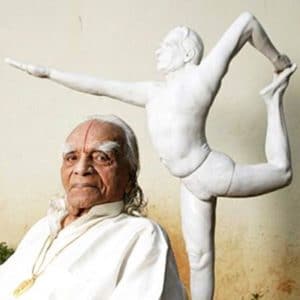 We fly westward to the cultural and spiritual center of Pune. We'll visit the Ramamani Iyengar Memorial Yoga Institute, where many yoga teachers were trained by the late master B.K.S. Iyengar, and to Kaivalyadham (KDHAM), which conducts scientific and philosophical research on Yoga and Ayurveda. Depending on logistics and circumstances, we may also visit Ananda Retreat (founded by Yogananda's disciple Swami Kriyananda), the Triveni Ashram of Sri Sri Ravi Shankar and Osho International Meditation Resort (Baghwan Shree Rajneesh).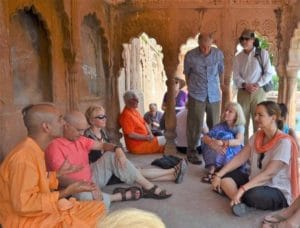 Pune is also the home of notable shrines, temples and historical landmarks, including the 8th century Patelshewar Shiva cave temple, Aga Khan Palace (where Gandhi and his wife Kasturba were imprisoned). We'll include a special evening of music or dance, which are plentiful in the city.
Ganeshpuri & Ecovillage
September 30 – October 4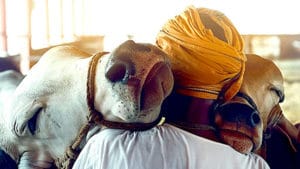 We'll drive to Ganeshpuri, home of the famous ashram created by Swami Muktananda (the unnamed location of the 'Pray' section in the book and movie Eat, Pray, Love). Our co-leader, Swami Brahmananda, will share stories of his years at the ashram with Muktananda in the 1970s. We'll also pay homage at the Nityananda Temple and Samadhi Shrine (dedicated to Muktananda's guru) and visit the Vajreshwari Temple.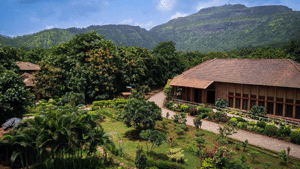 In this special segment of the tour, we will spend a few days at Govardhan Ecovillage, the sustainable, eco-friendly ashram/community created by Radhanath Swami, the American-born disciple of Srila Prabhupada (founder of the Hare Krishna movement) and author of The Journey Home. The devotional village is dedicated to living in harmony with nature according to Vedic principles. Our accommodations of comfortable "luxury" tents will keep us close to nature as we participate in daily life with the resident devotees.
Mumbai
October 4 – October 5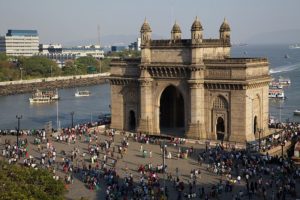 The bustling, modern metropolis of Mumbai is our final stop. We will stay at one of the prominent hotels in the Colaba district on the scenic shoreline of the Arabian Sea (where Yogananda's ship docked when he made his only return visit to India in 1935), a 5-minute walk to the Gateway of India and close to museums, Rajabai Tower and St. Thomas Cathedral. On our day tour of Mumbai we'll stop at a museum or two and take refuge at the Hare Krishna temple and the Yogoda Satsanga Society (Yogananda's lineage), and possibly visit a Bollywood movie set before saying goodbye at our farewell dinner celebration.