Philip Goldberg is the author or co-author of numerous books; a public speaker and workshop leader; a spiritual counselor, meditation teacher and ordained Interfaith Minister.  He lives in Los Angeles, cohosts the Spirit Matters podcast, leads American Veda Tours and blogs regularly on Huffington Post and Spirituality & Health.
For the curious-minded, here's the rest of the story:
Like the beloved Dodgers of Philip's youth, he was born and raised in Brooklyn and moved to Los Angeles. In between, Philip made stops in Manhattan, New England, Pennsylvania, San Francisco and Iowa. As a college student in the 1960's, he shuttled uncertainly from one major to another while carrying out more important work outside the classroom: expanding his mind in various ways, deciphering love, trying to end racism and war and relentlessly searching for higher truths. That pattern continued through three graduate schools in two years. In retrospect, what seemed like confusion was an idealistic young man scratching his way to the two passions that would mark his adult life: spirituality and writing.
After giving up on academia and taking his first job (creating a halfway house for youth with developmentally disabled youth in Massachusetts), Philip pursued answers to the Big Questions that conventional religion, psychology, politics and philosophy had failed to provide. Despite having been raised by atheists who disdained religion — or maybe because of it — Philip was drawn to the pragmatic mysticism of the East, at first through public thinkers like Alan Watts and Aldous Huxley, and then directly from the texts of Buddhism, Taoism and Hinduism — especially Vedanta and Yoga.
This led inexorably to Maharishi Mahesh Yogi's Transcendental Meditation, both because of its Beatles inspired notoriety and in spite of it. Philip spent a good portion of the 1970's teaching TM (changing the world, one mantra at a time, as he thought of it) and working for that organization in other capacities.
That affiliation launched Philip on a dedicated independent spiritual path as a pragmatic mystic —a yogi for whom transcendence is means, not an end — and also catalyzed his career as a professional writer. Throughout his chaotic academic life, the one consistent element was Philip's writing skill.  He got good grades despite lazy study habits, because Philip wrote so well that teachers thought he knew more than he did.  Sometimes, Philip would fantasize about living the writer's life.  In 1972, he was asked to write an article on TM for Seventeen magazine. It was Philip's first paid writing gig. Two years later, thanks to some fortuitous events, he was offered a contract to write a book.  It tanked commercially, but he learned that he could write professionally.
Philip's spiritual pursuits and his writing career ran on separate tracks, coming together only on occasion. In his books, he was able to indulge his interests in psychology, human potential and holistic health. Early on, to pay the bills, Philip accepted offers to collaborate with experts with good ideas but neither the capacity nor inclination to write.  That led to his version of a day job — ghosting, collaborating, editing — while working on his own books and enough screenwriting to acquire a sobering dose of Hollywood frustration.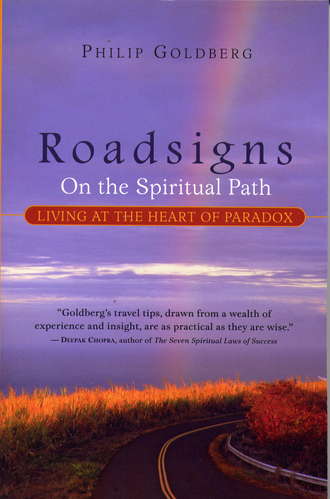 In the meantime, Philip continued earnestly pursuing his lifelong quest for illumination.  All along, the primary task has been how to develop spiritually while also carving out a productive, responsible, enjoyable, fulfilling life in the so-called real world.  What he learned about that mysterious undertaking (from his own experience and conversations with fellow travelers) he wrote about in Roadsigns on the Spiritual Path: Living at the Heart of Paradox.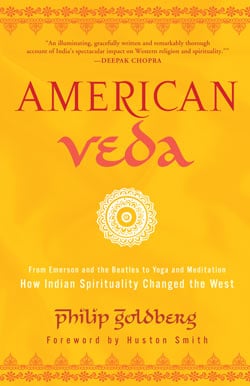 Sometime in the mid-80s, Philip realized that his path — integrating yogic ideas and practices into modern life in the USA — was rather typical of Sixties-era seekers.  Philip started researching the phenomenon and soon realized that its impact was bigger than he thought.  It was transforming society, not just individuals.  He proposed a book on the subject but publishers were shockingly disinterested.   Was he ahead of my time or just deluded?  On the chance that the former was true, Philip kept adding material to his files.  Then, in 2005, the karmic currents brought Philip and Random House together, and in 2010 American Veda was published.
The book earned good reviews, won awards and spawned related ventures like American Veda Tours, the Spirit Matters podcast, a documentary film project (now in the development and fundraising stage), satisfying lecture and workshop gigs and, of course, more and more writing. Philip shares his office with his cherished wife, Lori Deutsch, whose exceptional skills as a licensed acupuncturist, doctor of Chinese Medicine and practitioner of Functional Medicine keep him healthy.
Philip is currently negotiating publication rights for his upcoming book based on the life of Paramahansa Yogananda. In addition, he travels throughout the world providing lecture for academics, yogis, and spiritual organizations. The recent launch of Spirit Matters podcast, which are conversations on contemporary spirituality, allows Philip to reach an even broader audience. Book Philip for your next event or workshop and bring an interesting perspectives of spirituality in the mainstream. Contact Philip today.
Read Philip's articles:
Subscribe to Philip's Gita e-course.