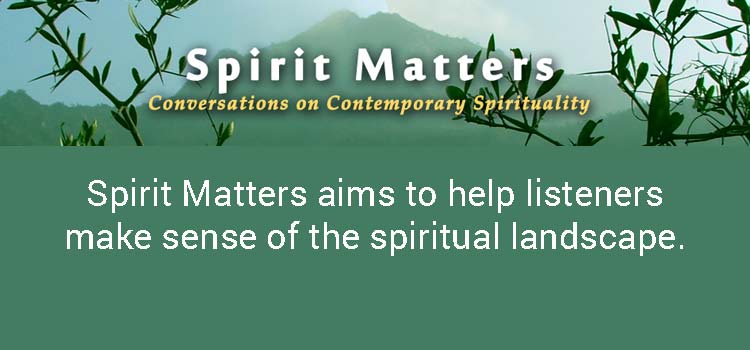 Spirit Matters Podcast
---
Listen and subscribe to Spirit Matters, the free podcast hosted by Philip Goldberg and Dennis Raimondi. Focused on the cutting edge of spirituality and religion, Spirit Matters features interviews with spiritual teachers, scholars, scientists and authors. New interviews posted regularly.
---
Go now!
---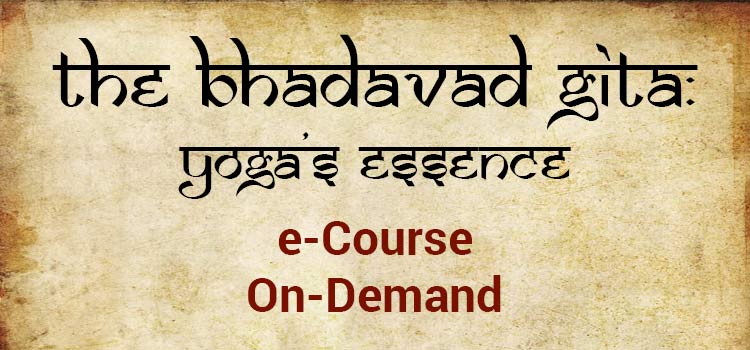 Bhagavad Gita e-course
---
Hinduism does not have one single holy book, but rather many. The Bhagavad Gita is paramount among them, containing the core precepts of Vedanta, Yoga and other schools of thought in the pluralistic Hindu tradition. Explore some of the most illuminating verses of the Gita on-demand.
---
Learn More!
---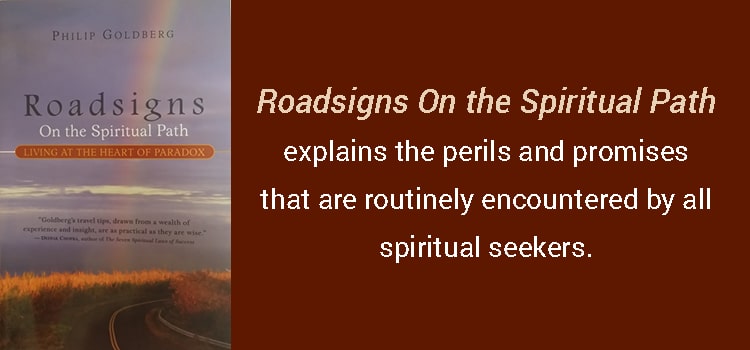 Featured Book
---
Roadsigns on the Spiritual Path is an indispensable book for anyone on a spiritual path, whether within a mainstream tradition or a journey of one's own.
The book recognizes that everyone's path is unique, filled with glory and bliss, as well as roadblocks, dead-ends and potholes.
---
Get it now!
Special Announcements
Philip's next book will be a biography of Paramahansa Yogananda, to be published by Hay House in 2018. Why a biography? Isn't Autobiography of a Yogi enough? No, it's not. As the terrific documentary Awake showed, much of Yogananda's fascinating and influential life is not covered in his iconic memoir. Philip's book will fill in the many blanks and place Yogananda in historical context. If you have any information that might be useful in his research, please contact us.
Spirit Matters now has more than 40 interviews with spiritual teachers, leaders and scholars, with new ones added about twice a week.
Philip Goldberg joined Sutra Journal as consulting editor and frequent contributor. Sutra Journal – an eclectic, beautifully illustrated, free resource examines the spiritual and artistic traditions born in India. It's depth, breadth and discernment deserve a big audience.
Philip Goldberg has been working with award-winning filmmaker Lisa Leeman, co-producer and co-director of Awake, to create a documentary series based on American Veda. They have received three grants and hope to raise the additional funds needed to film key interviews. You can make a tax-deductible donation here.
Subscribe to Philip's newsletter
---
Upcoming Events
Sunday, April 24, 9:00 am and 11:00 am, A Nation of Yogis sermon
Unity of Tustin (in Orange County, California)
Sunday, April 24, 1:30 – 4:30 pm, The Great Yogic Transmission
Unity of Tustin (in Orange County, California)

Saturday, April 30, 7:00 pm, The Beatles' Yoga with house band
Unity of Ft. Worth, TX
Sunday, May 1, 9:00 am, Sermon
Unity of Ft. Worth, TX

Sunday, May 1, 2:00 pm, Bhagavad Gita Workshop
Unity of Ft. Worth, TX
Friday, May 6, 7:00 pm, The Beatles' Yoga
Desert Song Healing Arts Center, Phoenix, AZ
Saturday, May 7, morning and afternoon workshops, Living La Vida Yoga
Desert Song Healing Arts Center, Phoenix, AZ
August 18-22, UDAYA LIVE, a 5-day yoga and music festival
In the gorgeous countryside of … Bulgaria! Renowned teachers and great kirtan artists will be there. Phil be doing a workshop and performing The Beatles' Yoga with Joey Lugassy and the fabulous 7-piece band that will rock the Balkans. Use code, PHIL, for a $100 discount.
Phil's recently published articles
The Collective Spiritual Failure
That humanity faces monumental challenges needs no more proof than a scan of the daily news outlets. A deeper look reveals that the cause of our problems is not just political dysfunction, which gets most of the attention. Nor is it economic injustice, or racial and ethnic bigotry, or ecological ignorance, or greed, or educational failure, or any one thing. It is all of those together, and more. It is also a spiritual failure.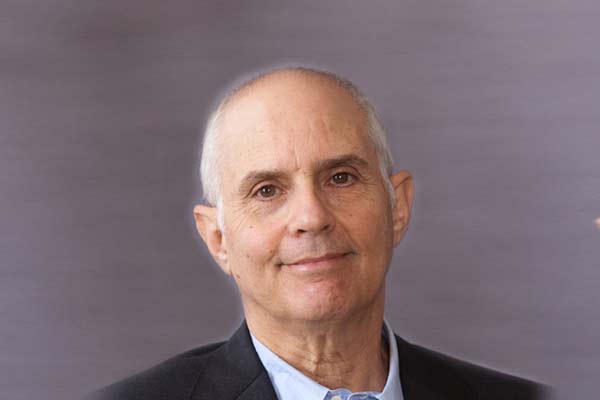 About Philip Goldberg
Philip's spiritual quest has, in its most significant features, mirrored the journeys of thousands of seekers in the West. As a young man, he disdained religion as he then understood it, only to be just as disillusioned by secular versions of wisdom and fulfillment. By the late 1960's, his dogged search for higher truth led to the mystical teachings of the East and, through them, to the esoteric branches of all traditions.
You can find numerous articles written by Philip Goldberg on Huffington Post and Elephant Journal. Subscribe today to receive Philip's newsletter, which contains interesting articles, reviews and special announcements.
Learn more about Philip
American Veda
American Veda is a facinating look at India's remarkable impact on Western culture. This eye-opening popular history shows how the ancient philosophy of Vedanta and the mind-body methods of Yoga have profoundly affected worldview of millions of Americans and radically altered the religious landscape.
Philip Goldberg paints a compelling picture of this remarkable East-to-West transmission, explaining how it accelerated through the decades and eventually moved from the counterculture into our laboratories, libraries, and living rooms. Rich in detail and expansive in scope, American Veda shows how we have come to accept and live by the central teaching of Vedic wisdom: Truth is one, the wise call it by many names.
Learn more about American Veda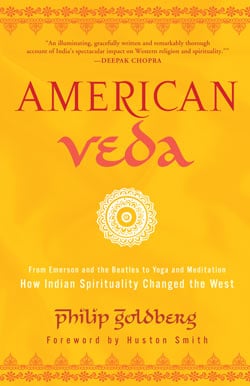 I was honored to give a keynote address at the 2015 Symposium on Yoga Therapy and Research. Titled Our Maha Lineage: A Nation of Yogis, the talk describes the streams that carried the wisdom of India's sages to the West: gurus, swamis and yoga masters; philosophers, physicists and psychologists; poets, novelists and musicians. The 400 Yoga Therapists present are a new component of that great transmission, and the talk urges them to maintain the integrity and fullness of the Yoga tradition as they adapt it to today's world.
~Philip Goldberg